Description
Turnkey Kit for installing and providing clean and reliable power for a Starlink RV/Residential kit onboard a boat.
Starlink Power Supply/Install Kit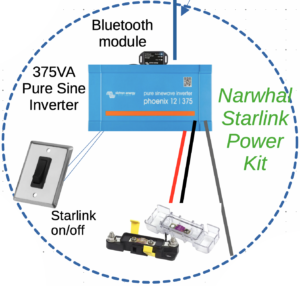 This is a complete kit to install a dedicated inverter to power and control a Starlink system onboard a boat.  No need to hack/modify the Starlink system and works with Starlink Residential, Business, and RV units.
Dedicated Pure Sine Inverter for Starlink (12VDC input, 120VAC output)
Bluetooth adapter for Inverter
DC Battery Cables (15ft)
Chassis Ground cable (15ft)
80 Amp fuse and holder
25ft Cat 6 Ethernet cable for Starlink interconnection to onboard 3rd party router
Panel mount on/off switch for Starlink/Inverter system with 25ft of wire
Inverter is a Victron model and can be integrated with onboard Victron GX monitoring equipment.  Let us know if you would like to replace the Bluetooth module in the kit with a VE.Direct cable to connect to a GX device.
Inverter is a Victron model and can be integrated with onboard Victron GX monitoring equipment.  VE.Direct Interface Cable is included, select Bluetooth module if you do not have a Victron GX Controller onboard.
For your safety, Sea-Tech recommends that Inverters be properly bonded (Neutral-to-Ground) at the Inverter itself.  Sea-Tech Starlink Power kits are shipped with the Inverter's internal bond already established so you don't need to perform this change yourself.
Customer must supply battery terminals for DC cables to match their vessels connection needs.
Starlink Ethernet Adapter for Standard antenna (Roam Portable/Residential) is not included, and must be ordered from the Starlink Shop directly.  Ethernet Adapter is only needed if connecting Starlink to a 3rd party router or network (such as one of our Narwhal systems).
Note: High Performance Flat Antennas for Mobile Priority include ethernet adapters in the package from Starlink and are not included in this package.
Supports all versions of Starlink Antenna hardware.