Sea-Tech has assembled the best Long-Range WiFi and Cellular packages for your boat!  Netflix, web-surfing, Zoom, Skype and more!
WiFi Extender Packages with Below Decks WiFi router from $394
The Rogue Series by Wave WiFi are ultra-small, compact Wireless Bridge and Ethernet Converter with output power of an incredible 800mW. Rogue WiFi Extenders include user-friendly, proprietary web-based interface with the ability to automatically reconnect to your favorite shore side WiFi networks, permanently ignore networks you don't want to see, automatically adjust output power (on Dual-Band models), and even have built-in features to make logging in to wifi network popup windows easeir.  Easier to use with Higher power and signal strength than competing wifi extenders.
All Rogue WiFi Extenders include the following:
Output power to 29dBm (800mW)
Supports 802.11 b/g/n (2.4 GHz)
Up to 7-mile range*
Automatic Reconnection to Favorite WiFi Networks
Includes 2.4 GHz 8.5db 20" outdoor antenna
Easy to use proprietary web-based Wave WiFi Interface
Compact, ultra-small design
120/220 VAC & 12 VDC PoE injector
25' Ethernet cable included
Instructional CD, Quick Start Guide.
One year limited warranty
Sea-Tech Package Option Adds:
12VDC powered Cisco Linksys Dual-Band WiFi router for onboard devices
12VDC power adapter cable to supply power to WiFi Extender and Router from a single power cord.
Sea-Tech will pre-program your router so it's ready as soon as you hook it up!
There are three versions of Rogue WiFi Extenders to fit any boat:
Rogue Wave
Features include:
Supports all 2.4Ghz wireless networks
Includes 2.4 GHz 8.5db 20" outdoor antenna and stainless steel rail mount
Lightweight Plastic body directly attached to antenna
Rail Mount makes this unit easily removeable.  
Great for boaters on a budget or for seasonal use.
25' Ethernet cable included (50ft and 100ft cables available)
Rogue Reach
Features include:
Supports all 2.4Ghz wireless networks: 2.4/5Ghz Dual-Band Optional
Integrated 2.4/5Ghz antenna and aluminum mounting collar
Mounts to standard 1″ 14TPI marine mount (not included)
Perfect for power boats with hardtops
Aluminum and Fiberglass construction
25' Ethernet cable included (permanently attached)
Rogue Pro
Features include:
Supports all 2.4Ghz wireless networks: 2.4/5Ghz Dual-Band Optional
Mounts to standard 1″ 14TPI marine mount (not included)
Stainless Steel body and fiberglass antenna
Flexible mounting and cable choices combined with dual-band options make this the highest performance option for any boat.
25' Ethernet cable included (50ft and 100ft available)
Multi-Source Routers with Optional built-in LTE from $999
Wave WiFi's line of Mobile Broadband Routers are cost-effective broadband source selectors suitable for offshore cruising boats, sport fisherman, or megayachts. The MBR-500 can handle up to four input sources such as Wave WiFi's own Rogue Pro DB and your Fleet One, Iridium Pilot, Certus, Fleet Broadband, HughesNet, or mini-VSAT system. The MBR-550 model also handles up to four input sources PLUS an integrated global band LTE cellular modem for connecting to the Internet. Both models also include a built-in 300mbps WiFi access point and at least one ethernet LAN port.  Use the MBR-550 cellular model with an additional external cellular antenna, or in conjunction with a cellular booster, to bring cellular Internet to the boat while underway miles offshore.
All of the Wave WiFi Mobile Broadband Routers manage connections with an 'Auto-Failover' mode or manually through a simple click in the web UI. Set a preferred connection in the simple setup menu such as your Wave WiFi Rogue unit, the cellular connection or satellite. If that connection loses Internet access, the Broadband Router seamlessly connects you to the next available, prioritized source.  You can also set maximum data usage for a particular user, computer, or Internet connection per day, month, etc and the router will block access or automatically switch to an alternate Internet connection that hasn't used it's data allotment.

MBR-500 features include:
Built-In 300mbps WiFi Access Point with 2 x Antennas (MIMO)
5 x 10/100mbps Ethernet ports
Up to 4 WAN/Internet ports
Up to 4 LAN ports
Automatic WAN Port Selection and Failover
MAC Address filtering per-WAN port
URL Blacklist
Data usage monitoring
Captive Portal with user login codes
Integrated management of attached Rogue Series WiFi Extenders
Integrated management of attached YachtAP external wireless access points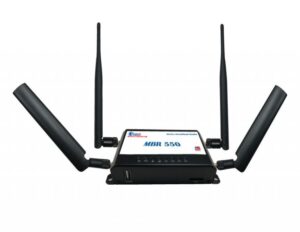 MBR-550 features include everything from MBR-500 plus:
Built-In Global LTE Cellular
Dual MIMO Cellular Antennas
SIM Card Slot (Unlocked, Use Any SIM Card)
Add Any of the above Wave WiFi Rogue Series WiFi Extenders to an MBR-5XX series router to make a complete Global WiFi and Cellular communications solution for your boat.
Long-Range Cellular Booster Kit for Boats from $899
Sea-Tech has assembled this complete 5-band cellular booster kit for the cruising boat!  The kit includes the latest cellular amplifier from SureCall, plus the best antennas for boat use, appropriate cables, and any necessary antenna connecting adapters where needed.  Extend your cell phone's range from shore by 30% or more.
Fusion2Go 3.0™ provides the maximum gain and power possible for an in-vehicle cell phone signal booster ensuring seamless connectivity in remote areas.
Independent lab testing by CKC Labs concluded that the Fusion2Go 3.0 proves 2X more power and fastest data speeds when compared to the closest competitor. This means that the Fusion2Go 3.0 works further into the fringe of the network than any other vehicle signal booster available on the market today.
Stay connected anywhere with the included Poynting OMNI 400 marine exterior antenna equipped with 1″-14 threaded adapter for standard marine antenna mounts AND an L-bracket kit to suite any mounting requirement. The OMNI 400 antenna provides up to 7.5db gain for cellular bands increasing total signal strength and compensating for long cable runs when installation requirements dictate.   The Fusion2Go 3.0 booster works with all North American cellular carriers, including AT&T, Verizon, Sprint, T-Mobile, to improve your voice, text, and 4G LTE signals in remote locations and areas with poor cellular reception.
SeaTech Marine Cellular Booster Kit Features:
Boosts voice, text & 4G LTE signals for all North American cell carriers
Reduces dropped and missed calls inside any car, truck or SUV
Increases signal strength & extends battery life for multiple users on all cellular devices
Improves 4G LTE data speeds and connectivity for more miles of uninterrupted coverage
No cradle or docking station required
Sets up in minutes, simple plug-and-play install
The SeaTech Marine Cellular Booster Kit comes with the following:
Included: SureCall Fusion2Go 3.0 Cellular 5-band amplifier for North America
Included: Poynting Tech High Gain Omni 400 Antenna with L-Bracket and 1″-14 Threaded base options included
Included: 30ft, 50ft, or 75ft of low-loss LMR-400 cable for external antenna
Included: 10ft of low-loss LMR-240 cable for interior antenna
Included: L-Bracket Mount for Exterior Antenna
Included: Straight Mount (or) Rail Mount for the Exterior Antenna (You Choose)
Included: Bulkhead Mount (or) Ceiling Mount Interior Antenna (You Choose)
Included: Cabling Adapters for Antenna to Amplifier connections where needed