Description
Wave WiFi's line of Mobile Broadband Routers are cost-effective broadband source selectors suitable for offshore cruising boats, sport fisherman, or megayachts. The MBR-500 can handle up to four input sources such as WaveWiFi's own Rogue Pro DB and your Fleet One, Iridium Pilot, Certus, Fleet Broadband, HughesNet, or mini-VSAT system. The MBR-550 model also handles up to four input sources PLUS an integrated global band LTE cellular modem for connecting to the Internet. Both models also include a built-in 300mbps WiFi access point and at least one ethernet LAN port.  Use the MBR-550 cellular model with an additional external cellular antenna, or in conjunction with a cellular booster, to bring cellular Internet to the boat while underway miles offshore.
All of the WaveWiFi Mobile Broadband Routers manage connections with an 'Auto-Failover' mode or manually through a simple click in the web UI. Set a preferred connection in the simple setup menu such as your WaveWiFi Rogue unit, the cellular connection or satellite. If that connection loses Internet access, the Broadband Router seamlessly connects you to the next available, prioritized source.  You can also set maximum data usage for a particular user, computer, or Internet connection per day, month, etc and the router will block access or automatically switch to an alternate Internet connection that hasn't used it's data allotment.
The Mobile Broadband Router is the central control element for a robust Internet communications system. It is easy to use, with no special skills necessary. Like all WaveWiFi products, the Broadband Router's web-based functionality is built in; there is no software to install.
Connections are managed through WaveWiFi's web-based interface. The intuitive interface shows at a glance which broadband sources are active. A simple mouse click allows switching between active sources.
Advanced features include WaveWiFi's Access Management Control which is invaluable for metered sources, such as satellite and cellular. This means you can create a customizable login page (Captive Portal), generate individual 'user login codes' for guests and crew, monitor and control per user bandwidth as well as configure port forwarding.
These models are also capable of supporting 'Guest Networks'. This means that any devices connected to the Guest Network will not have access to the MBR 500 or 550's manage page. They will only be able to use the data provided by the MBR series router and not be able to manipulate it.
Download WaveWiFi MBR-500/550 Brochure
Download WaveWiFi MBR-500/550 Quick Start Guide
Manually or Automatically select between shore-based WiFi, cellular, satellite, and other Internet sources, and check your current connection status at a glance!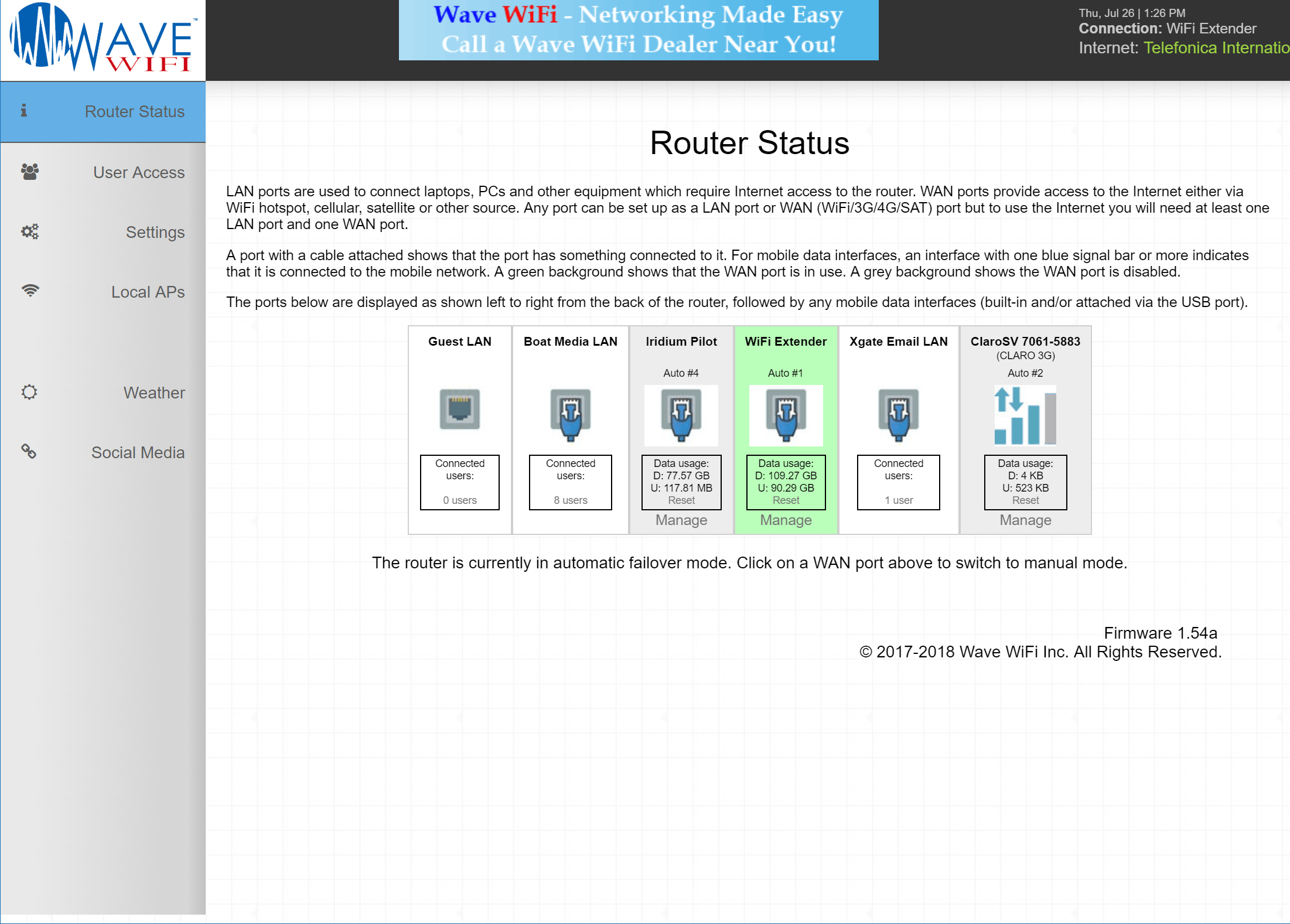 See who is connected and whether they are allowed access to the Internet in real-time
Control how each device on your network can access the Internet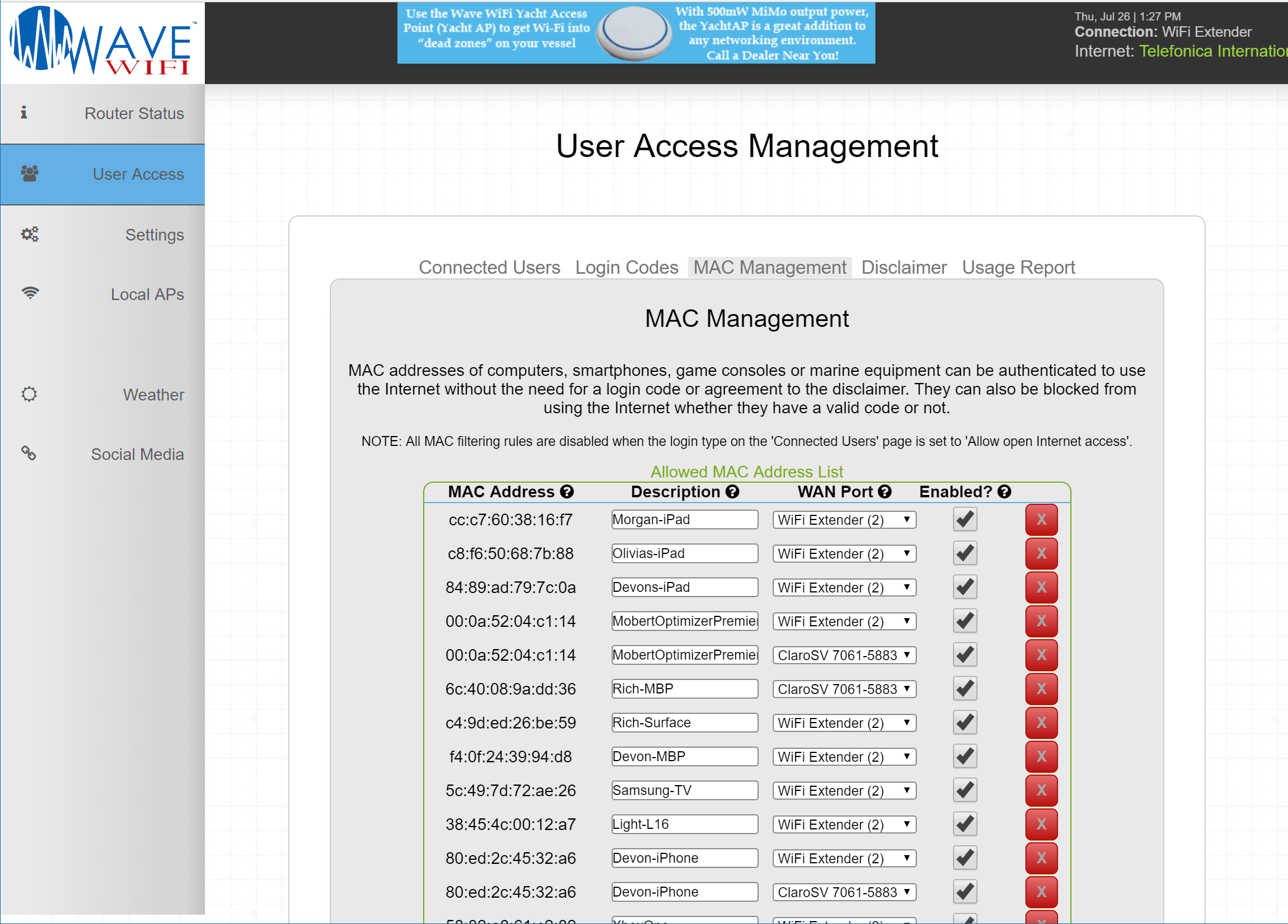 Easily Access the attached Rogue Wave, Reach, or Pro WiFi Extender to scan for and connect to shore-based WiFi networks, and watch your MBR router automatically switch to Shore WiFi when it detects Internet, reducing your cellular and satellite data usage.