Description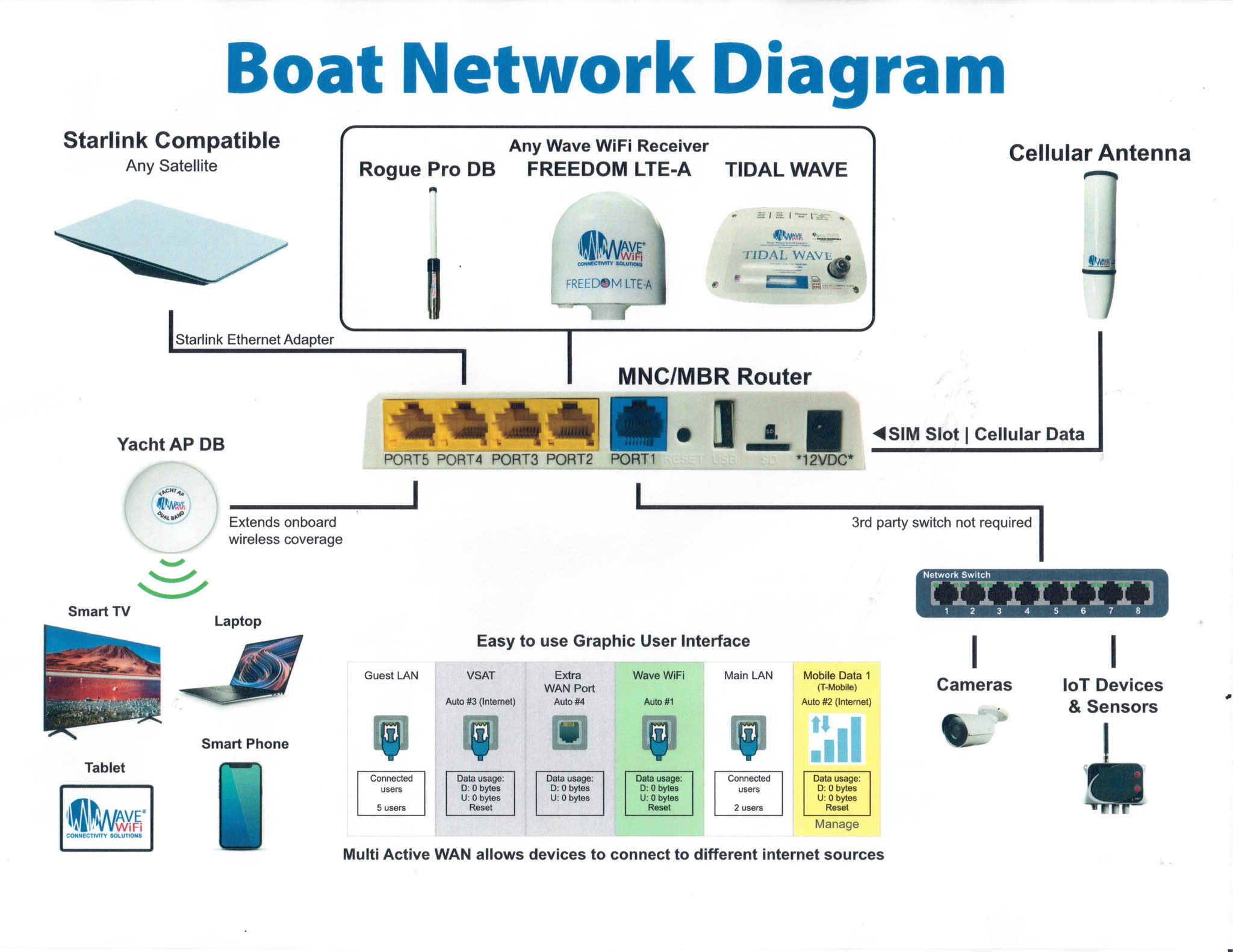 Complete Wave WiFi communications package for your boat, including Freedom LTE-A, an exterior mounted dome that provides LTE Cellular connection with SIM Card slot, dual-band shore/marina Wi-Fi extender plus Wave WiFi's MNC-1200 multi-WAN router with gigabit networking and dual-band Wi-Fi for below decks connection for all your devices.
Freedom Dual-Band – Cellular Receiver Dome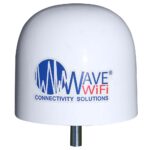 The Freedom LTE-A is a Dual Band MU-MIMO 2.4Ghz + 5Ghz WiFi transceiver with a built in universal SIM slot for cellular connectivity. The complete unit including all antennas is conveniently housed in an easy to mount dome. The dome comes complete with stainless steel 1-14" female thread mount so it can be used with standard marine mounts (not included). Power and connection are provided by a single 12vdc PoE (Power Over Ethernet) cable for easy installation. When connected to one of Wave's wireless routers, marine network controllers or access points, the Freedom can provide Internet connectivity for numerous connected devices. The system comes with a user-friendly web-based interface and there is no software to install.
Features:
Dual-Band WiFi 2.4 and 5Ghz (5.1-5.8Ghz)
MIMO (Multiple Input/Multiple Output) enclosed antenna array
Single cable 12vdc POE (Power Over Ethernet)
Easy install with standard 1″-14 threaded base
12″ X 12″ and weighs only 4lbs
Cat6 Global LTE-A cellular
MSRP $3299
MNC-1200 Dual Band Wireless Network Controller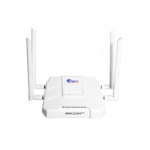 The MNC-1200 is a Dual band 2.4/5Ghz wireless network controller with dual internal access points, gigabit ports, multi-source failover functionality, and a host of other robust features to complete a vessels networking needs. Our MNC-1250 provides full usage exposure while providing the ability to control by source/by login code/or by user with features to manage accessibility, cap data, limit bandwidth, and blacklist macs and/or urls from one easy to access browser based page on any chosen device.
The SIM slot is designed to be universal and works with most SIM cards used throughout the world allowing users the ability to connect to a variety of cellular networks. The ability to easily remove and replace the SIM means that users can choose their own providers based on the locations they travel to, and the availability of service in any given area. For example in one's Homeport provider "A" may have the best service and their SIM can be used. When traveling to another state if coverage is better on provider "B" then one of their SIMS can be used. If the vessel leaves the country, or is foreign based, a foreign SIM for example from a Canadian, Bahamian, or Mexican carrier can be acquired and used while in the prospective country. This versatility of coverage and the ability to pay directly for cellular connectivity to the source country instead of relying on roaming agreements is ideal for cruisers.The MNC-1250 is the most advanced and fastest marine network controller Wave Wi-Fi has developed to date and works well on all sizes and types of vessels.
The MNC 1200 features:
Built-In Multi-Source automatic WAN failover
Built-In Dual-Band WiFi Access Points
Management UI with guest logins, captive portal, device management, URL filtering, and other features built-in
Integrated Control of WaveWiFi Rogue WiFi Extenders
Integrated Control of WaveWiFi YachtAP Access Points
Support for muiltiple Cellular and/or Satellite Internet connections
(2) Access Point antennas (2.4GHz)
(2) Access Point antennas (5Ghz)
(1) 12VDC Power Adapter
(1) Quick Start / Configuration Guide
Manually or Automatically select between shore-based WiFi, cellular, satellite, and other Internet sources, and check your current connection status at a glance!
MSRP: $1795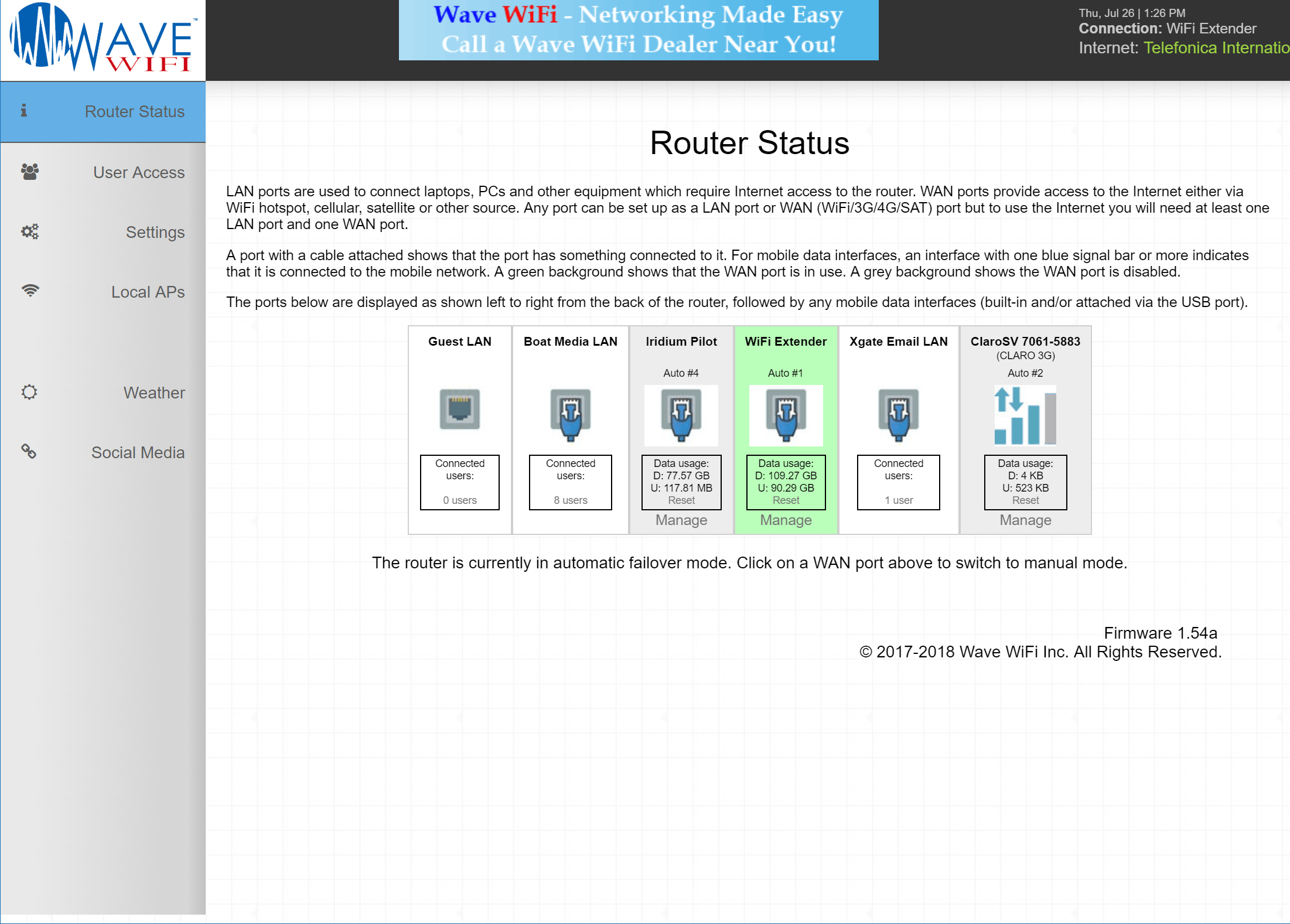 See who is connected and whether they are allowed access to the Internet in real-time
Control how each device on your network can access the Internet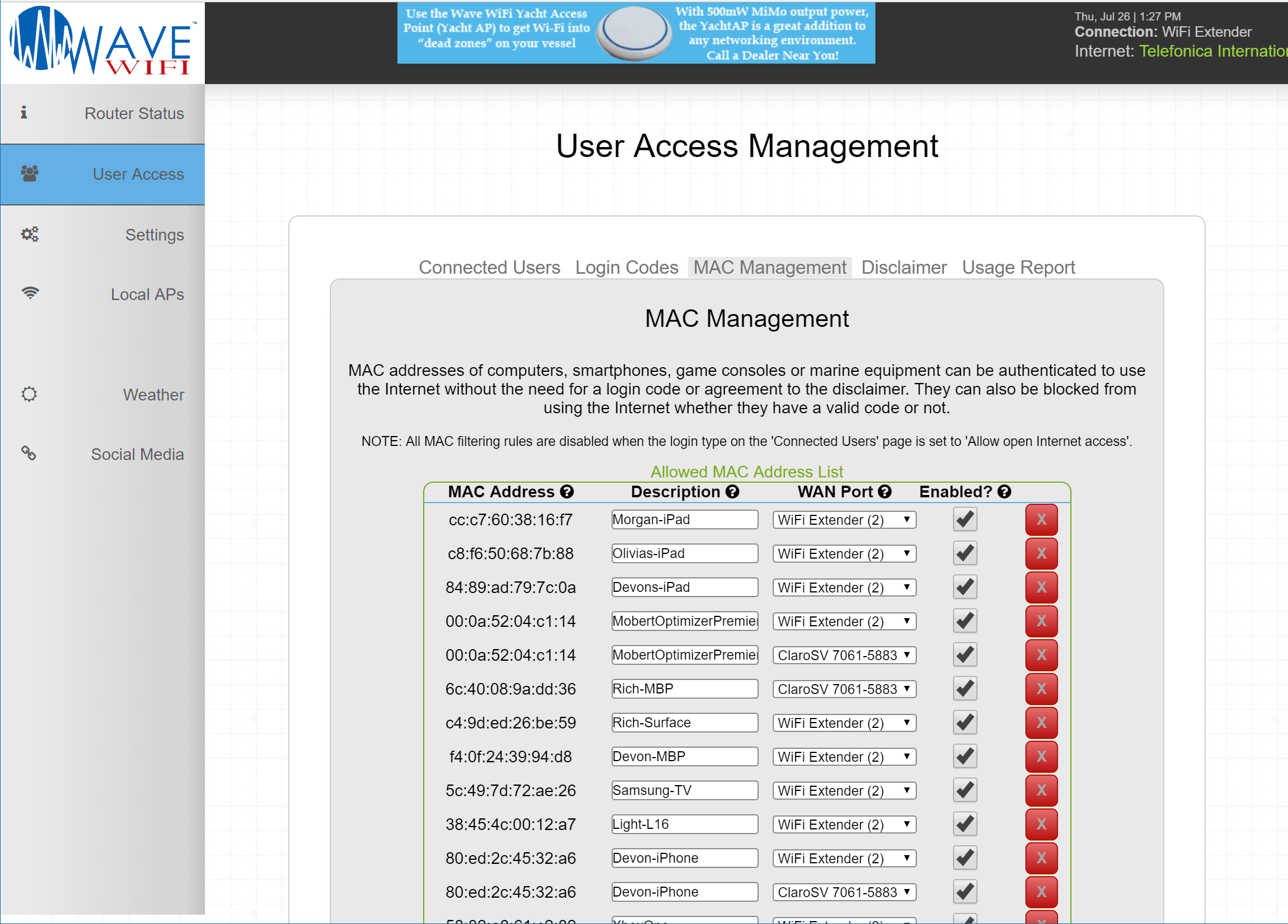 Easily Access the attached Rogue Wave, Reach, or Pro WiFi Extender (Optional Add-on) to scan for and connect to shore-based WiFi networks, and watch your MNC router automatically switch to Shore WiFi when it detects Internet, reducing your cellular and satellite data usage.