Description
Complete Wi-Fi, Cellular, and Satellite Communications Solution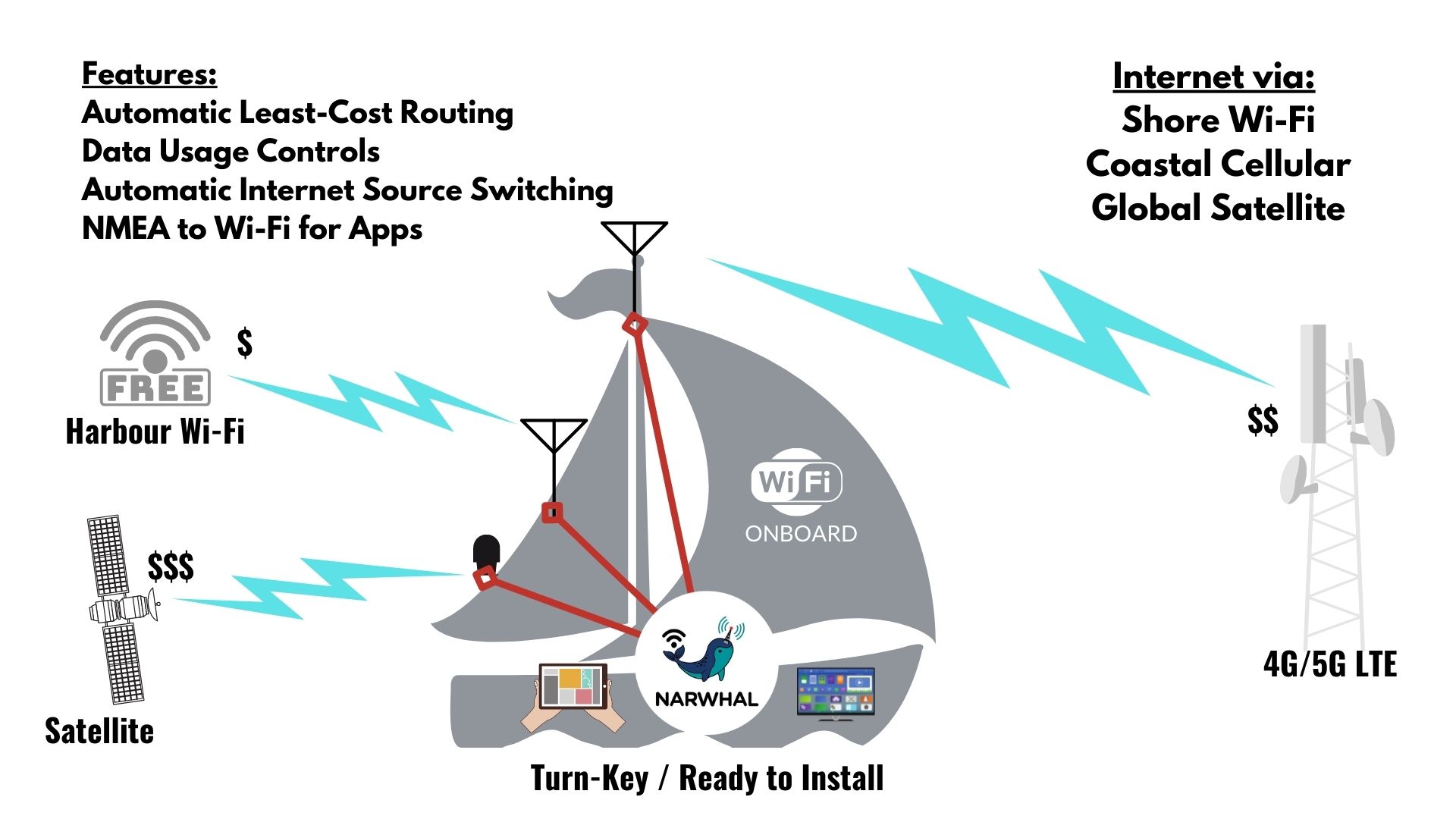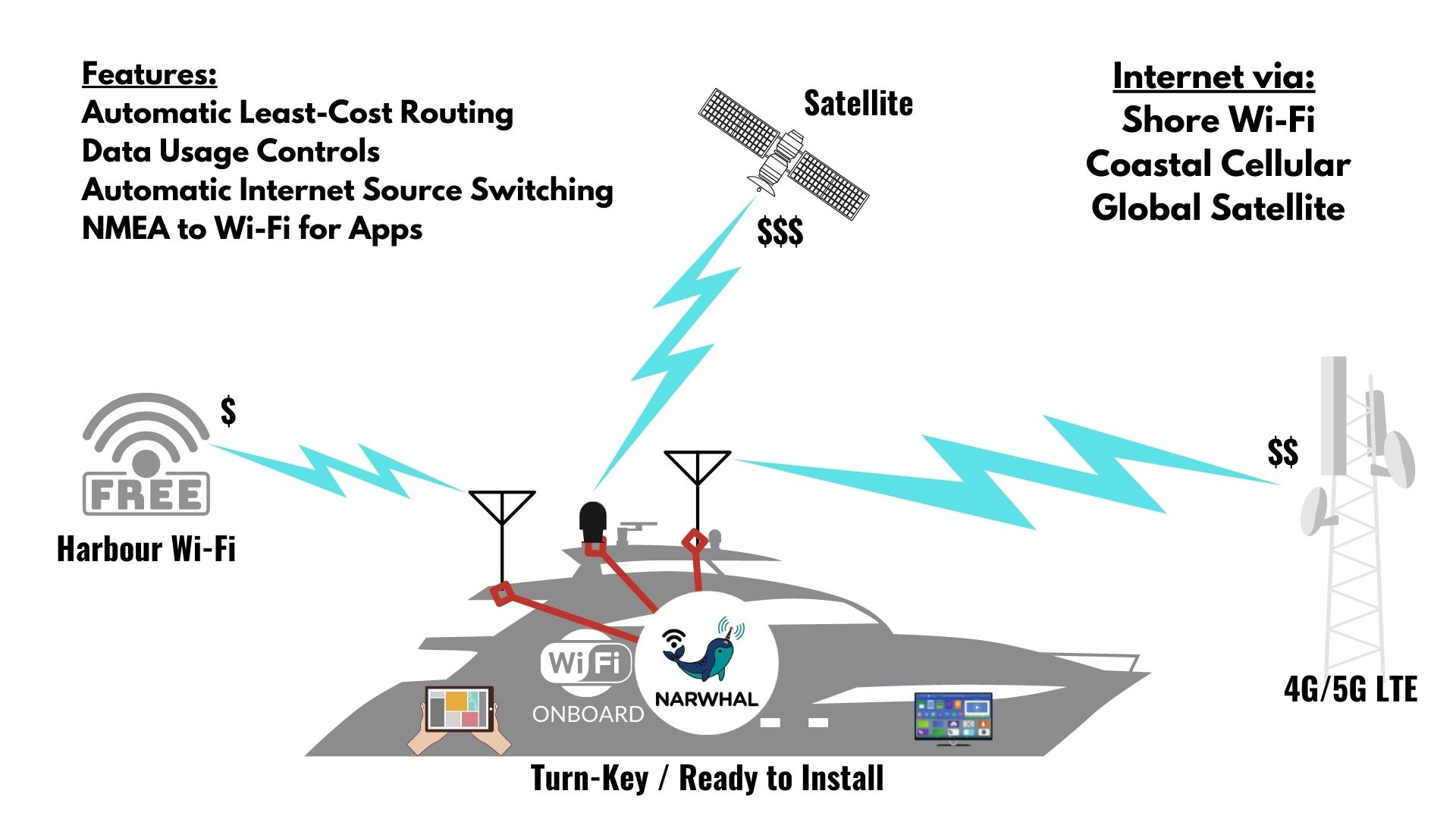 Narwhal is a complete, turn-key, voice and data communications solution for boats of any size.  Sea-Tech combines best-of-breed communications hardware and software with our own design, integration, testing, services, and support to give you what you need in a pre-tested, pre-configured, easy-to-use, easy-to-install, plug-and-play solution.
Narwhal connects to shore Wi-Fi, cellular, and satellite networks and automatically chooses from the least-cost option available at any time.  The system also controls which devices on your boat can use each of the Internet connections you have available, preventing non-critical devices from consuming expensive data.  Guest logins and website blacklists are also included features in every Narwhal version.
Narwhal consolidates multiple existing Wi-Fi networks and easily integrates onboard NMEA2000 and NMEA0183 networks, enabling your smart devices to perform navigation and communications functions simultaneously.  No more need to switch between a satellite device's wi-fi network and an AIS or chartplotter's wi-fi network; Narwhal bridges all of these networks into a single on-board Navigation and Communication network for your laptops, smartphones, tablets, smart TV's, and more!
Narwhal supports all the popular cruising apps including but not limited to CruisersEmail, PredictWind, Navionics, iNavX, TimeZero, OpenCPN, Rosepoint, and more!
Narwhal Provides the following Below-Decks:
Vessel Wide Wi-Fi Network for all your devices
Automatic Failover/Switchover between Shore Wi-Fi, LTE, and Satellite connections
Control over which devices can use Shore Wi-Fi vs Cellular vs Satellite connections
Limited Guest Logins (if desired)
Web Filtering Blacklists (protect your kids or limit data usage)
Single web UI to control Internet access connections, available from any device with a web browser
Integration for onboard NMEA0183 and/or NMEA2000 networks, and ability to eliminate Wi-Fi sprawl on board.  Combine your AIS, MFD, Satellite, Cellular, and other networks into a single powerful, easy-to-use, Wi-Fi network.

(Supports existing NMEA to Ethernet/Wi-Fi Bridges or add one with your Narwhal package)
Narwhal Supports Shore-Based Wi-Fi connections:
Dual Band, Supports both 2.4Ghz and 5Ghz Networks for the best performance and compatibility
WEP, WPA, and WPA2 support for any Wi-Fi network configuration you will find
Connect to new Shore Wi-Fi networks with just 2 clicks/taps
Automatically reconnects to known favorite Wi-Fi networks
Automatically adjusts power to provide the best performance
Built-in support for logging into wi-fi network popup pages (aka Captive Portals)
Narwhal Supports Global Cellular LTE Data:
Long-Range Coastal LTE Data connections are possible 10-30nm off the coast
Supports SIMs and Cellular Networks around the globe
High Gain exterior marine antenna for extended range
Cellular LTE Data services included with Narwhal Connect
Narwhal Simplifies Satellite Voice and Data Choices:
Satellite hardware and services are included with Narwhal and Narwhal Connect.  Each Narwhal Edition is designed around specific user needs and matches the satellite system capabilities with those needs.   See more about specific capabilities below in the details of each Narwhal Edition.
Narwhal Is DIY and Boat Yard Friendly:
All of the hardware and software needed to completely install the system
Pre-configured system that is ready to use out of the box
Power and Data cables, and custom adapters to make the installation easy
Exterior marine antenna mounts for the Wi-Fi, Cellular, and Satellite antennas
Quick Start Guide Included plus access to Sea-Tech Support during and after install
Benefits of Narwhal Connect Service Plans:
Narwhal Connect Services combine LTE, Satellite, Compressed Email, Satellite Usage Filtering/Reporting, and other services into a single service plan, providing unique benefits you won't find elsewhere.  And you don't need to know how to set up our advanced data services because we do that for you!
Satellite Phone and Data Services

Suspendable service plans for seasonal users
Unlimited data for some Narwhal versions
Advanced Internet usage filtering and reporting for broadband satellite services (managed by Sea-Tech)
Compressed Email and Web Services Included

LTE Data Services

No Activation Fee
No Contracts
Multiple High-Speed LTE Plans Available
No Hassle Setup, Install, and Activation (SIM Card is pre-installed and ready to use)

Optional Add-On Services Available

Narwhal Business – Follow-Me Voice Call Routing, Voicemail to Email, and more
Narwhal Navigation – Nobeltec TimeZero Navigator v4 for Windows

Preconfiguration on your laptop of choice including integration with your Narwhal system is available

Narwhal Multi-Satellite – Combine the best of unlimited global email and weather with metered high-speed data to meet tighter budgets with moderate data needs
Narwhal comes in several flavors to meet the needs of any boater:
Narwhal Global Cruising Boat Edition:
Dual-Band Long-Range Wi-Fi Extender for Shore Wi-Fi Connections
Global LTE Cellular (works with Narwhal Connect or any other SIM Card)
100% Global Iridium Voice, SMS, and Data with Unlimited Data/SMS plans available

Perfect for small email, sms, weather forecasting, and casual phone calls from anywhere on the planet
Make calls and send/receive texts from your Smartphone, or even make/take calls using an analog desk phone
Narwhal High-Latitude Web Edition:
Dual-Band Long-Range Wi-Fi Extender for Shore Wi-Fi Connections
Global LTE Cellular (works with Narwhal Connect or any other SIM Card)
100% Global Iridium Voice and Broadband Data

Perfect for those who need high speed data while cruising in challenging terrain and/or high latitudes
Make calls and send/receive texts from your Smartphone, or even make/take calls using an analog desk phone
Narwhal Americas Social At Sea Edition:
Dual-Band Long-Range Wi-Fi Extender for Shore Wi-Fi Connections
Global LTE Cellular (works with Narwhal Connect or any other SIM Card)
Inmarsat Voice and Data with Unlimited Data plans available for North, Central, South America and Caribbean

Perfect for those that are staying near the Americas and want to be able to use Whatsapp, Facebook Messenger, and Apple iMessage outside of cellular range.
Download Emails, weather GRIB Files, and other data in real time
Support any navigation and weather app
Make calls from your Smartphone, or even make/take calls using an analog desk phone

(Note: Global Satellite Coverage is available without unlimited data)
Narwhal Global Unlimited Web Edition:
Dual-Band Long-Range Wi-Fi Extender for Shore Wi-Fi Connections
Global LTE Cellular (works with Narwhal Connect or any other SIM Card)
Global Unlimited Broadband Data

Perfect for larger yachts (50ft Mono or 40ft Catamaran +) that desire always-on, home-like Internet at sea
Skype, Zoom, Watch Netflix, Read/Write Email and more!
Supports practically any application
Make calls from your Smartphone, or even make/take calls using an analog desk phone