This question is often asked on forums, especially now that the formerly cruiser-approved Wirie Pro is no longer available, is what is available to enhance or leverage cellular for Internet access on a boat rather than marina WiFi.  Since cellular coverage is generally wider and longer-range vs WiFi, and marine WiFi networks are notoriously overwhelmed, using cellular to access the Internet is becoming more common.  Cellular data is also inherently more secure than WiFi if you are doing banking transactions, for example.
So what IS on the market today?  Well there are several options in fact, and they break down into 4 categories.
Cellular Signal Boosters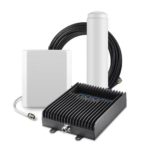 First, there are cellular boosters, which merely boost the signal strength between your cellular phone, tablet, etc and the remote cellular tower.  These boosters generally come in three versions depending on the region you are in–Americas, Europe, and Asia.   There are currently no global boosters, so if you are travelling around the world you would need to have all three versions on board and switch between them as you travel.   You can use your phone or tablet like normal, but with a stronger signal, and hence further from shore.  You can also use your device as a hotspot for computers at the same time.
Boosters are made by several companies including SureCall, Wilson, and Nikrans.
Cellular Extenders
Aside from boosters, we have Cellular Extenders, also sometimes called Cellular Routers, LTE Routers, and Cellular Ethernet Converters.  These devices have their own cellular modems and use a SIM card just like your phone.  They connect to the cellular network and share the Internet connection with the other devices on your boat using WiFi or Ethernet.  Because they use their own SIM card, they need some sort of active data plan which can be from the same carrier as you use for your phones, or possibly a local SIM card from a country you are travelling to.   There are two basic types of cellular extenders, the all externally mounted "Dome" style, and the internally mounted "Router" style.  Below is a list of the current offerings on the market including the MSRP price (US) and grouped by style.
Dome Style Cellular Extenders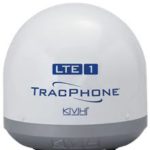 KVH LTE-1 – $1699.  Dome style unit. Has cellular router embedded with integral antennas. Supports USA only (currently). Includes a KVH SIM which carries a $99/Month service plan for 10GB of data.  You can suspend the plan for $10/month in the off-season, and overages are $10/Month.  The LTE-1 does not include a WiFi Extender.  The hardware of this unit is actually global, but coverage is entirely controlled by KVH's roaming agreements, of which there are very few today.  That may or may not change in the future.  If you have a KVH TracPhone mini-VSAT unit and stay within US/Canada then this may be a good way to easily add a cellular option to your satellite system to save costs.  It's probably not the best choice for other users due to cost and limitations.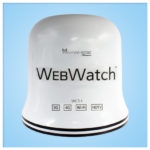 Shakespeare WebWatch – $850.  Dome style like the KVH-1. Supports USA with AT&T SIM Cards (not included). Also has WiFi Extender functionality built-in, and can optionally include a TV Antenna if desired. Managed using a smartphone app.  It works, but it's very limited in cellular network support and it's remote wifi signal strength is lower than dedicated wifi extenders like the Redport Halo and Wave WiFi Rogue.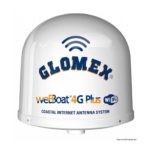 Glomex WebBoat – $995. Another Dome style unit with LTE and WiFi Extender. Supports USA and Canada cellular networks, using your own SIM Card. Managed using a smartphone app.  This device appears to have extra ethernet ports for expansion.  This unit also has two SIM card slots so you can switch between two carriers as you travel.  This unit looks good from most of it's specifications but there are not a lot of users we've found to get reviews from.  If you plan to travel outside of North America you should look for a global device like the MBR-550, Tidalwave, NeptuLunkv2 below.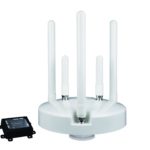 Winegard ConnecT 4G1xM – $479.  Has WiFi and LTE extenders and a Wifi and Ethernet connection to below decks. Connect it to any router inside the boat. It's US/Canada only, AND it relies on a Winegard SIM card so you pay for Winegard's plan, similar to KVH.  It's USA and Canada only. It appears the hardware may support AT&T and Verizon, along with roaming partners in Canada. In any case the Winegard data plans start at a higher per-GB (but lower entry point) compared to KVH, but when you get to upwards of 150GB of data per-month it's cheaper per-GB compared to KVH. There are also no activation fees and the plans are monthly prepaid.  If you are looking for a USA/Canada solution, the Winegard unit is likely the cheapest option and appears to work quite well.  It's ability to pick up remote WiFi signals is not quite as good as some of the other WiFi Extenders like the Redport Halo and Wave WiFi Rogue units.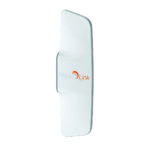 MVG NeptuLink (v2) – $2900 (with mount).  Not a dome per-se, but still wholly external.  A mast mounted device with LTE cellular and WiFi Extender in one unit. Supports two SIM cards and can switch between them. Has built-in WiFi for connecting from your devices or an ethernet cable to connect down to an onboard WiFi router. The global LTE modem inside supports many cellular bands and likely works in most countries.  This is an excellent unit but high priced and swapping cellular SIM cards could be a challenge if mounted on a high mast.
Router Style Cellular Extenders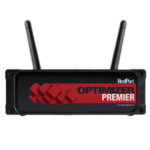 Redport Optimizer Premier LTE – $699.  Small interior router with integrated Cellular. Acts as your onboard WiFi router and supports multiple internet connections (WiFi Extender, optional addon), cellular, and multiple satellite devices. Also includes a powerful satellite firewall to limit bandwidth consumption, and onboard email server, etc for those who are using Xgate email/web/crew services. Managed via any web browser. For same range as dome-style units you would add an external antenna and coax cable to this device and mount the antenna somewhere up high like an arch, spreader, or masthead. The LTE modem in this device is global, works around the world with any SIM. (Note: The version of this router with LTE is not currently available from the manufacturer, a external/separate cellular modem can be combined with the non-LTE version of this router but the built-in LTE modem is not currently available.  Contact Sea-Tech for more information and options)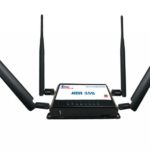 Wave WiFi MBR-550 – $1495. Similar to the Redport device but with a much simpler interface. Like the Redport, it can automatically switch between wifi, cellular, and satellite, and limit access for certain devices on your network depending on the internet connection. WiFi Extender is optional, and an external cellular antenna is recommended. Same as the Redport. The primary advantage with the MBR-550 over the Redport is ease-of-use. It's dead simple to setup and manage. The LTE modem in this device is global, works around the world with any SIM (it is the same modem as the Redport device).  This router is the one Sea-Tech recommends for most boaters.
The MBR-550 and companion Rogue Pro DB WiFi Extender are Waterway Guide's Editors Choice (Dec 2019) for ease of use and performance! Read the Article Here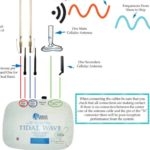 Wave WiFi Tidalwave – $3295. Not a router, but a Cellular and WiFi Extender designed for larger vessels. Has high performance (multi-antenna MIMO) for 2.4Ghz WiFi, 5.8Ghz WiFi, and LTE Cellular. The unit mounts inside the boat with 3 interior antennas, plus 3 more external antennas with coax are included. It connects to your on board network (any router you have) using a gigabit ethernet port. Like the MBR-550 it is dead simple to use. The LTE modem in this device is global, works around the world with any SIM.  If you aren't as concerned about autofailover and want the highest performance wifi and cellular connections with ease-of-use, the Tidalwave is the answer.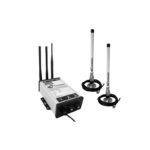 Digital Yacht 4GConnect – $499-$799. A Cellular router with a primarily Europe network focus.  The more expensive variant includes externally mounted antennas and cables.   A WiFi Extender made by Digital Yacht can also be integrated into the system for ~$770 additional.  This device shares the cellular internet connection with other devices over WiFi.  The WiFI Extender connection port could alternatively be used for a different type of Internet connection like satellite.  If you are a US customer or planning to travel globally outside of Europe, we don't recommend this unit.
Want to Learn More about Offshore Comms?  Subscribe to Marine Electronics Advisor today and get started!
More Details
I have collected detailed LTE/3G Band details for each of these devices into this table so that you can see the technical differences between these devices.  If there is further information you would like, or if you think something in this table is inaccurate, contact me. I intend to add and update this chart over time as the market changes.