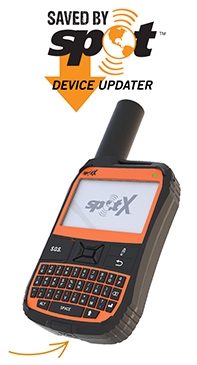 Globalstar/SPOTX has released a new firmware update for their SPOTX two-way messenger.  It's not required but definitely recommended to upgrade when you have the time.
This October 15th, 2018 update contains the following:
Improvements
New Main Menu Layout

Added a Create Message icon
Added a Contacts icon
Added a Track/Fetch Intervals icon

Support for long email addresses – up to 50 characters
Update Basic service to include 30 and 60 minute tracking
Audible alerts for incoming messages
Fixes
Fixed accidental SOS initiation bug
Fixed occasional incorrect recipient display
Preferred language consistency throughout user interface
Fixed Nation Safe Drivers displaying as a contact
To Upgrade, go to SPOTX's firmware update page, download the appropriate software for your Windows or Mac.  Follow the instructions to install.  Then connect your SPOTX to your computer with USB and upgrade.
https://www.findmespot.com/en/index.php?cid=225