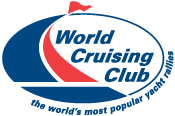 Richard Anderson is speaking at the 2018 World Cruising Club training series in Annapolis, MD, March 24-25th, 2018.
Richard will focus on the communications options available (including new products) for cruising boats and the way that cruisers actually use overlapping technologies: Cellular voice and broadband, Wireless Fidelity (WiFi), Voice over Internet Protocol (VOIP), VHF FM radio, HF SSB radio, Automatic Information System (AIS), Digital Selective Calling (DSC), Geo and Leo satellite phones, satellite personal trackers, and broadband satellite terminals when offshore. You will learn how to adapt these technologies to a your needs and budget as well how you can economically move your business aboard.
Attendees of the World Cruising Club seminar series will also learn about all aspects of preparing to go ocean sailing, presented by experts, industry professionals and experienced cruisers. Lecturers have been chosen for their knowledge and practical experience in their specialist fields. Special emphasis will be on the ARC Caribbean 1500 and what to expect in terms of weather and equipment issues, but anyone interested in offshore sailing will gain valuable lessons from the weekend.
Richard Anderson and his family have cruised from Seattle to the southeast Alaskan glaciers to Mexico's Sea of Cortez on their Jeanneau 45, s/v Mobert, with every kind of communications equipment on boat. He is also the owner of Sea-Tech Systems, a supplier of SSB, Satellite, WiFi, and Cellular solutions for cruisers who want to stay connected, or need to run a business abroad. They blog actively at www.andersonsabroad.com.