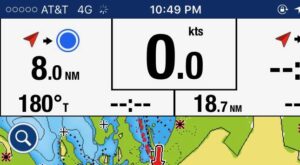 So we've been cruising up and down the West Coast from as far north as Juneau, AK to as far south as Cabo San Lucas, MX over the past 6+ months and we've been using our cellular phones for Internet access heavily (more than WiFi due to availability, and of course more than satellite due to cost.)  Over that period of time we have learned a few tips and trips to make somewhat lackluster Internet access and cell coverage work better, and to stretch our mobile plans with T-Mobile and Verizon as far as we can.  Read on for a little background as to what mobile service we have, what connectivity experiences we've had, and how we've managed it, along with some secret tips on getting more out of your data plan.
First, some background.  
Before we left the states, we had two iPhone 6S mobile phones (one for Devon and one for myself), Devon is on a Verizon Unlimited plan and I had recently switched from AT&T Wireless to T-Mobile One Plus in order to lower my bill and get some international roaming services.
Both of our plans are unlimited voice/text/data plans which include Canada and Mexico LTE roaming, as well as high-speed personal hotspot.   The Verizon plan is quite a bit more expensive than the T-Mobile plan for essentially the same service, but we kept Verizon due to it's inherently better home service area coverage (inside the US) compared with T-Mobile.
T-Mobile One Plus

Verizon Unlimited

Cost per month including taxes

$75.00/mo

$90.37/mo

Domestic Calls

Unlimited

Unlimited

Canada/Mexico Roaming Calls

Unlimited

Unlimited

Intl Roaming Calls

$0.20/min

Variable Roaming Rates

Domestic Roaming Texts

Unlimited

Unlimited

Canada/Mexico Roaming Texts

Unlimited

Unlimited

Intl Roaming Texts

Unlimited
(140 countries)

Not included

Domestic Data

Unlimited (LTE)

Unlimited (LTE)

Canada/Mexico Roaming Data

5GB/Month (LTE)
256kbps after

500MB/Day (LTE)
2G speeds after

Intl Roaming Data

Unlimited 256kbps

Not Included

Domestic Hotspot (LTE Speed)

10GB/Month
(3G speeds after)

15GB/Month
(2G speeds after)

Canada/Mexico Roaming Hotspot

5GB/Month (LTE)
256kbps after)

500MB/Day LTE
(2G speeds after)

Intl Roaming Hotspot

Unlimited 256kbps

Not included
Taking a look at the above table you can see that while there are some differences, the plans are fairly similar for a traveler going to Canada and/or Mexico.  The primary difference for North America data roaming is how T-Mobile and Verizon calculate your high-speed data limit.  T-Mobile gives you a monthly maximum that you can burn as quickly as you want while Verizon limits it per-day and resets at midnight.   T-Mobile allows you to manage it yourself, while Verizon sort of protects you from accidentally burning all of your data in a short period of time.  Both companies limit your speed after you use your allotted data and I'll discuss a bit about that later.Another thing to note is that both T-Mobile and Verizon (as well as AT&T Wireless) warn you that roaming for more than 2 months continuously without returning home is grounds for dropping your international services, i.e.  the roaming features are not designed for people who live outside the US.   There are some workarounds to this, most notably returning to the US every 60 days or less to reset the timer.  There are some trickier workarounds as well for T-Mobile specifically. 1.) T-Mobile Business customers have more leniency than individuals when it comes to overusing roaming features, so if you have a small business, think about putting your account in your business name (within the laws of course) 2.) WiFi Calling can appear as a domestic call and *may* reset your 2 month timer, so if you get some WiFi access in Canada or Mexico, make a couple calls on it if you can.  This has proven harder than it may seem because the wifi we have found in Mexico for customer/public use has been slower than cellular and more than a few wifi calls have barely connected or been dropped quickly.
Okay, on to our coverage experience so far and comparisons between T-Mobile and Verizon:
Coastal British Columbia
During the first couple months of travel we headed north by boat through British Columbia and into Southeast Alaska.   While in British Columbia, Devon hand I had similar coverage for our devices, connecting to Rogers or Telus 3G and LTE most of the time.  We found that the LTE coverage in coastal BC was spotty however and many times if we disabled LTE on our phones we would have reliable data, but on LTE the signal was just strong enough to stay on LTE, but not strong enough to actually use it.  Rogers was nearly useless most of the time, so we had to force our devices to Telus through the Carrier settings on our phones.  So for the Pacific Coast of BC Canada, Telus 3G was the most reliable.
Winner: Tie
Southeast Alaska
As we moved north into Alaska, of course the carriers changed, with AT&T being the primary carrier available.  In two cities, Ketchikan and Craig, there is a local cellular carrier with excellent LTE data speeds, but we had to force our phones to use that carrier over AT&T.  Outside those two cities, AT&T 4G was it.  No LTE was available, and it technically wasn't even 4G.   The speed was 128kbps no matter what.  This was clearly a technical limit within AT&T's Alaska network.  Unfortunately for Devon, her Verizon phonestyle="border:1px solid #cccccc; would not roam to AT&T at all, and *when* she had Verizon service it was 1X data and literally had no access to data at all.  We called Verizon customer service and they confirmed that if it shows 1X, there's no data.  So Devon's Verizon phone had no access to data for 90% of our time in Alaska, while my T-Mobile phone worked (slowly) for quite a bit of it, though I lost service in most of the small anchorages we ended up in nightly.
Winner: T-Mobile, by a mile…
Washington / Oregon Pacific Ocean Offshore
We sailed from Anacortes, WA out through the Juan de Fuca Straight, then offshore about 60 miles and south to California, making our final stop on that leg in Half Moon Bay, California, just south of the San Francisco Bay.  We did not really have a chance to use our phones because they were largely out of the coverage area but we did see some coverage patterns.   When we were around 25 miles from shore (a few times during our 5 day transit) the Verizon devices on our boat would have just enough signal for texts and notifications to come in, and to respond with a few texts.  Sometimes it would be enough to load some data, but generally not.  We relied on our satellite phone for calls and emails throughout the trip.  My T-Mobile phone had no service once we were 5 miles offshore on day one, and it had nothing until we were just about 5 miles from Half Moon Bay, CA on day 5.  You might be able to get an important call out if you came within 15-20 miles of shore using a Verizon phone whereas with T-Mobile there was practically no chance.
Winner: Verizon, barely.
California Coastal Sailing and Cities
We spent approximately 45 days between Half Moon Bay and San Diego, CA including Monterey, Port San Luis, the Channel Islands, Catalina, Ventura, and Mission Bay.  Cellular service was spotty depending on where we were but close to land it generally worked okay.  Both phones seemed to work at around the same time, with little differences.  However, it seemed like Central and Southern California's cellular networks are overloaded, resulting in slow internet access most of the time and higher than normal battery drain.
Winner: Tie
After San Diego, we headed south into Mexico, which has a much more involved connectivity story, so it needs its own post..  More on that soon!